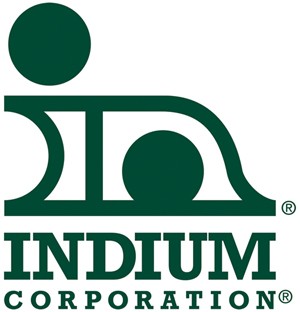 Indium Corporation Receives SMT China Vision Award
May 12, 2015
Indium Corporation was presented with the SMT China Vision Award for its Indium10.1 solder paste at NEPCON China on April 21 in Shanghai, China.
The SMT China Vision Award recognizes domestic and international companies with innovative products and technologies in SMT methods, processes, materials, equipment, software, and management services. Each product entry was evaluated based on its creativeness, technological advancement, and contributions to help reduce cost, improve quality, increase efficiency, enhance reliability, ensure safety, and protect the environment.
Indium10.1 is a Pb-free halogen-containing solder paste with the lowest levels of voiding for QFNs, BGAs, and pads with large ground planes.
The oxidation-inhibiting properties of Indium10.1 provide industry-leading head-in-pillow and graping resistance with complete coalescence, even after long reflow profiles. The exceptional soldering ability of Indium10.1 makes it the best solution for components with less-than-ideal solderability and challenging RF shield metallizations.
Indium10.1 offers the lowest cost-of-ownership to PCB assembly manufacturers through best-in-class printing and soldering performance, including best-in-class print definition and transfer efficiency, low-voiding performance, and head-in-pillow and graping resistance.
For more information about Indium10.1 or Indium Corporation's complete Pb-free solder paste series, visit www.indium.com/indium10.1, or email askus@indium.com.
Indium Corporation is a premier materials manufacturer and supplier to the global electronics, semiconductor, solar, thin-film, and thermal management markets. Products include solders and fluxes; brazes; thermal interface materials; sputtering targets; indium, gallium, germanium, and tin metals and inorganic compounds; and NanoFoil®. Founded in 1934, Indium has global technical support and factories located in China, Malaysia, Singapore, South Korea, the United Kingdom, and the USA.
For more information about Indium Corporation, visit www.indium.com or email abrown@indium.com. You can also follow our experts, From One Engineer To Another® (#FOETA), at www.facebook.com/indium or @IndiumCorp.